Accounting
Company
Contracts
With Adminmatic you can easily create contracts that clearly outline a project's scope, timeline and deliverables. Clients can't help but be impressed and you'll save time and increase brand recognition with our customizable print, email and PDF templates.
Level up your proposals
Build detailed contracts with terms and line items.
Covert to work orders once accepted to save time.
Ability for your clients to accept a contract proposal online.
View and respond to client feedback about an estimate.
Preview estimates and quotes before sending.
Email, Print and generate PDFs from anywhere in the world using our web and mobile apps.
Easy to customize so you can look professional and showcase your brand.
Use contracts to generate work orders to get your job scheduled and completed - say goodbye to double entries!
Customers
Organize and maintain your customers' information in one location that is easy to access.
Create and store various customer and job site details that are unique to your business's needs and useful in generating contracts or work orders. Access leads, contracts, work orders, invoices and customer payments from their file. Interested in sharing your account information with someone? Send your customers a portal sign up for access to their portal page. Customers can view their contact, billing and property details, any outstanding contracts, work orders or invoices and contact you with questions or comments.
Departments & Crews
Make it easy for your staff to know their daily teammates. Organize your staff into departments and crews then assign to work orders. Crews can be arranged for any future date to have better control over your schedule.
Emails
Employees
some info on employees
Equipment
Adminmatic can help keep track of all your equipment assets. Assign equipment to crews for specific dates. Using the app lets you access all important information when making parts runs. Let you staff know about equipment maintenance needs to keep your gear running smooth. Our pre trip inspections help prevent surprise breakdowns and helps your teams stay safe.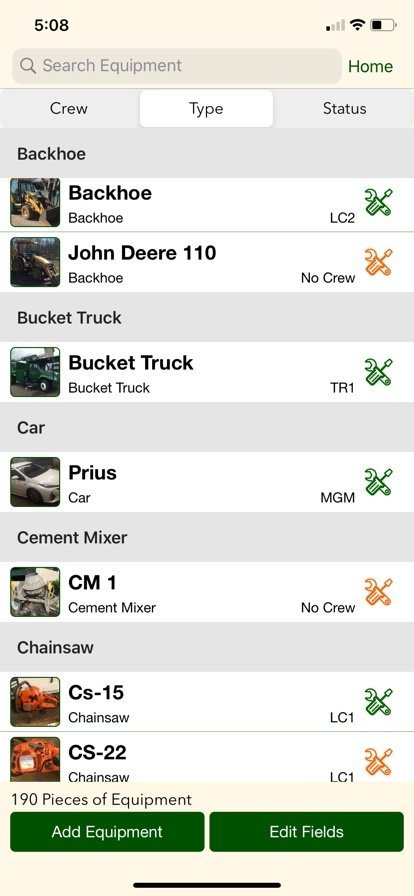 Images & Documents
Pictures tell a thousand words. Images and Documents are an important part of the Adminmatic system. Images can be linked to a variety of places, providing better job descriptions and employee accountability. Photos uploaded from the job sites means less trips needed to inspect work and helps spot potential problems. Customers can log on to their private portal to keep up to date with a project or routine service. Employees can "Like" images to naturally help sort your company's favorite pictures. Images can be grouped in albums and tagged to keep them organized. Link other types of documents to your customers to keep everything neat in one place.
Home
Some text on home page goes here
Testing Quote
Testing list
item 2
item 3 is a longer item with a lot more text to see how it wraps around. item 3 is a longer item with a lot more text to see how it wraps around.
Some Bold text to see how it looks
Some Italic Text to see how it looks
Header Size One
Some Text
Header Size Two
Some more text
Header Size Three
Some more text
Header Size Four
Some more text
Header Size Five?
Not sure if this works
Ordered List
Maybe it looks weird
should be fine
Invoices
Generating fixed price or time driven invoices is as easy as a couple of clicks. Our powerful suite of invoice generating tools ensure that you can efficiently produce invoices from single or multiple work orders in a batch. Once created you can email directly to the customer using our built-in tools and they can pay online through their customer portal.
Save time and get paid faster
Add invoice due dates and customizable payment term that trigger reminder emails directly to the customer.
Automatically calculate taxes and payments fees.
Preview invoices before sending.
Instant updates when an invoice has been viewed and paid via the customer portal.
Detailed spending reports to keep track of your company.
Items
Keep track of your service and material items using Adminmatic's Items page.
Manage and compare item costs from multiple vendors to help you charge a fair price. Set a primary department to an item to better organize your schedule. Estimate item quantities by drawing on completed work order data. Group items together as templates for quick and consistent contract or work order creation.
Leads
With Adminmatic, you can collect and manage custom leads and quickly transform them into ready-to-send contracts or work orders. Save time by converting your prospective customers into paying customers and pocket your money sooner.
A Few Ways Adminmatic Makes Estimation Easy
You can manage your leads by age, urgency and sales rep.
Attach images and notes to build a punch list of tasks.
Track lead status internally to ensure nothing is missed.
Quickly convert into contracts with terms and down payments.
Go directly to creating a work order that can be added to your employees schedule.
Allow customers to create their own leads through the customer portal.
Mapping
Employee of the Month
some info on employee of the month
Online Payments
Payroll
Say goodbye to time cards! Your crews can clock in and out for the day in the same app used to log time to work orders. Our payroll system calculates daily and weekly wages and will auto-calculate overtime for non-exempt employees. Edit shift information for one or several employees at once.
Work Planner
Customer Portal
The Adminmatic customer portal allows your customers to access to a variety of information and features. Once they have created a login they will be able to:
View & Manage Stored Details
Access Linked Images & Documents
Manage Service Settings
View & Accept Contracts
View Active Work
Manage & Pay Invoices
View Balance & Payments
Submit Work Requests
Reports
Adminmatic comes equipped with a variety of detailed reports. These reports can be used to keep track of recurring jobs and upcoming material needs. Use our "Usage" report to track each employees job visits, revenue and profit. The payroll report makes tallying hours a thing of the past. Customizable customer and item settings allow infinite ways to categorize and list what matters most to your business.
Route Optimization
Schedule List
some info on schedule list
Settings
some info on settings
Employees Main
Securely store employee details and employment information using the same system as the rest of your business. Assign a primary department, crew, log professional licenses and manage regular shifts from one location.
Employee Access to Adminmatic
Create user names and passwords for your employees to access your Adminmatic site and log time to work orders. Use our various job roles to assign user access levels - keep your information secure and the workload flowing.
Quickbooks Sync
Templates
Terms
Vendors
Keep all the contact info for your favorite vendors organized. Link the items you sell to the vendors you prefer and quickly compare costs. Allow your crews to quickly locate the materials they need while on the job.
Work Orders
Work orders identify a single customer job, allowing you to define the services and materials required with customizable tasks that are only visible to employees. They function as the main scheduling tool for the Adminmatic work flow, keeping all of your jobs and employee usage neatly organized.
Advanced scheduling and time-keeping
Create work orders from leads and contracts or as needed.
Track job status and get a detailed view of job profitability for every work order.
Assign and schedule employees and equipment.
Assign deadlines to ensure work is finished on time.
Balance your work load with our planner to assign equal work to each crew.
Manage images and files directly attached to the work order.
Ping your employees schedule to the Adminmatic mobile app.
Control what your team can and cannot access with custom permissions.
Zones